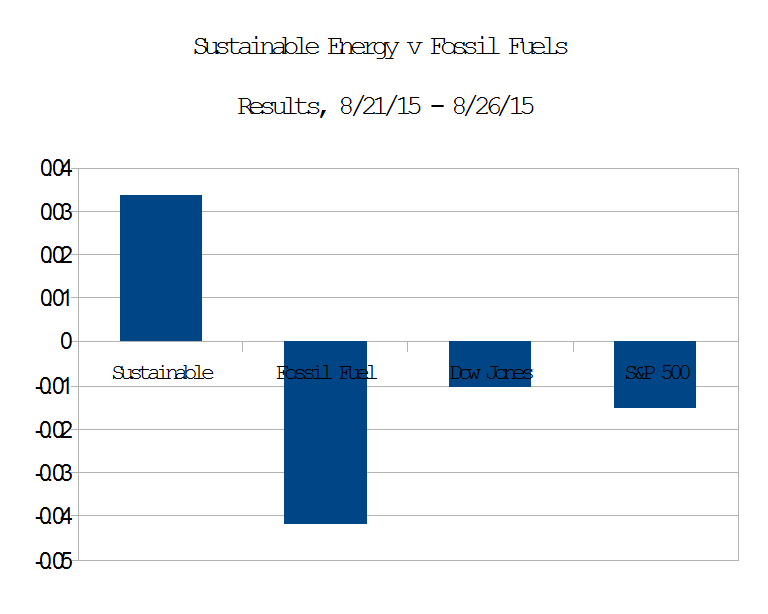 According to Adam Haigh, Bloomberg Business the current stock market valuation "Correction" may be complete. Meanwhile, in the microeconomic world of energy, as illustrated above, the Sustainable Energy portfolio" I created in December, 2012, here, rose slightly above the close of trading Friday, August 21, 2015, while the Fossil Fuel portfolio, the S&P 500 index and the Dow Jones Industrial average closed below their values at the close of trading on 21 August, 2015.
Mr. Haigh, in  Asian Stocks Rise as U.S. Equity Rout Halted; China Futures Gain, wrote,
Asian stocks rose for a second day after U.S. shares halted a six-day rout.

The MSCI Asia Pacific Index gained 0.9 percent to 127.93 as of 9:05 a.m. in Tokyo. The Standard & Poor's 500 Index jumped 3.9 percent, the most since 2011. Two things that have supported U.S. stocks in the past, dovish words from the Federal Reserve and improved economic data, halted a plunge that erased $2.2 trillion from equity values.
But the long term trend in energy stocks, first reported by me here in February, 2013, appears to be persistent. Solar and Wind stocks may be continuing to climb; Fossil fuel stocks may be continuing to decline. Either or both of these trends could, of course, reverse.
The data are summarized beginning in Table 1, below. [click to continue…]
{ 0 comments }