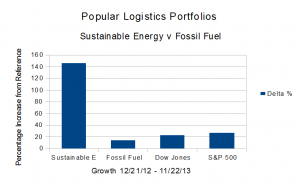 On Dec. 21, 2011, with $16 Imaginary Million, I created an investment simulation. I invested $1.0 Million in imaginary money in each of eight fossil fuel companies and eight sustainable energy companies. As of the close of trading 11 months later, Friday, Nov. 22, 2013, the trend, clearly evident after three months, in March of this year, continues.
The Dow Jones Industrial Average is up 22.72% from 12/21/12.
The S&P 500 is up 26.22%.
The Fossil Fuel Portfolio, dramatically underperforming the reference indices, is up 13.37% from Dec. 21, 2012.
The Sustainable Energy portfolio is up 145.37% from Dec. 21, 2012.

The Sustainable Energy Portfolio is also down 4.39% from October 18, 2013.
Note  that this represents a retreat of 4.39% from the high of 156.14%, in October, 2013.
As discussed in September and October, last month, in Septermber, 2013, in "Investing for the Future," and October, in "Sustainable Investing: Green Energy, Green Economy," the important question is:  Is this a trend or a bubble?  As I wrote, I think it's a trend.
The 2,000 pound question, after Typhoon Haiyon, Hurricanes Sandy,  Irene and Katrina, after the fires of 2012 and 2013, the Missouri River Floods of 2011 – which knocked out the Fort Calhoun nuclear plant – the super-tornadoes of 2013 – one with a two mile wide contact point on land, which tore through Oklahoma (CNN / National Geographic / Zerohedge) is will we survive to make the transition to clean sustainable energy?
or rather:
"How many of us survive to make this transition?"
"What will be the carrying capacity of earth for humans?"
The data are summarized beginning in Table 1, below.
{ 0 comments }