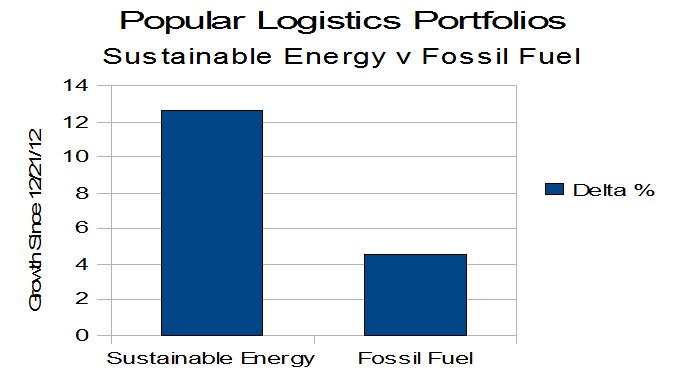 On Dec. 21, 2012, I launched the Popular Logistics Sustainable Energy Portfolio Simulation. After 6 weeks, as of the close of business 2/7/13, the results are:
The Sustainable Energy Portfolio is UP 12.6%
The Fossil Fuel Reference Portfolio is UP 5.09%
In comparison,
The Dow Jones Industrial Average is UP 6.52%
The S&P 500 is UP 5.52%
While six weeks is a very short time frame, except for fruit flies and Day Traders, the Popular Logistics Sustainable Energy Portfolio outperformed the Dow, the S&P 500, and the Fossil Fuel Reference Portfolio by a wide margin. In the same time frame the Fossil Fuel Reference Portfolio also underperformed these indices.
Details are below

The "Sustainable Energy Portfolio", composed of CREE, First Solar, GT Advanced Tech, Lighting Sciences, Next Era Energy, Sun Power, Solazyme, and Vestas, increased in value 12.6%.  The "Fossil Fuel Portfolio", composed of BP, Chevron Texaco, Conoco Philips, Royal Dutch Shell, Haliburton, Transocean, and Peabody Coal in creased in value 5.09%.
Sustainable Energy Portfolio
Popular Logistics Sustainable Energy Portfolio
Value of Investment

Item
Company
Symbol
12/21/12
02/07/13
1
Cree
CREE
1,000,000
1,312,059
2
First Solar
FSLR
1,000,000
1,003,548
3
GT Adv. Tech.
GTAT
1,000,000
1,050,000
4
Lighting Science
LSCG
1,000,000
893,333
5
Next Era Energy
NEE
1,000,000
1,032,143
6
Sun Power
SPWR
1,000,000
1,546,961
7
Solazyme
SZYM
1,000,000
1,019,185
8
Vestas
VWS
1,000,000
1,150.555
total
8,000,000
9,007,784
Value of change
1,007,784
Percent of change
12.6%

Table 1
Fossil Fuel Reference Portfolio
BP, Chevron Texaco, CVX, Conoco Philips, COP, Exxon Mobil, XOM, and Royal Dutch Shell, RDS.A, five large multi-national oil companies.
Halliburton, HAL, and oil industry service company, and
Transocean, RIG, an international provider of offshore drilling services to oil and gas companies.
Peabody Coal, BTU, an American coal company.
Popular Logistics Fossil Fuel Reference Portfolio
Value of Investment

Item
Company
Symbol
12/21/12
02/07/13
1
BP
BP
1,000,000
1,024,691
2
Chevron Texaco
CVX
1,000,000
1,048,400
3
Conoco Philips
COP
1,000,000
983,447
4
Exxon Mobil
XOM
1,000,000
1,011,693
5
Royal Dutch Shell
RDS.A
1,000,000
975.754
6
Haliburton
HAL
1,000,000
1,176,318
7
Transocean
RIG
1,000,000
1,232,033
8
Peabody Coal
BTU
1,000,000
913,845
total
8,000,000
8,407,495
Value of change
407,495
Percent of change
5.09%

Table 2
The summary data are in Table 3, below.
Summary Data
Value
Portfolio
12/21/12
02/06/13
Delta
%
Sustainable Energy
8,000,000
9,007,784
1,007,784
12.60%
Fossil Fuel
8,041,264
8,407,495
407,495
5.09%
DJI
13,091
13,944
853
6.52%
S&P 500
1,430
1,509
79
5.52%
Table 3
These portfolios were built with imaginary investments of $1.0 million in each of the companys. Using $1.0 million gives me the ability to eyeball the data and see how each company has done in comparison to each other. However, it requires virtual investment in fractional shares. If this was real, not a simulation, then I would invest in different proportions, And I probably wouldn't invest in any coal, oil, or drilling service companies.
After publishing the original post,  I wanted to add a coal and wind company, so, I exercised virtual call options to buy Peabody Coal, BPU and Vestas Wind, VWS, at the prices as of 12/21/12.
Most of these are American companies. Vestas, however, is a Danish company, BP, Shell, and Transocean are based in Europe. However, all the big oil companies are global.
—
I am not a licensed stock broker, investment adviser, financial planner, or money manager. If I was managing a real fund I would not allocate funds in precisely equal amounts. I would also not invest any funds in any of the companies listed in the "Fossil Fuel Portfolio." I am doing so here because it is purely an academic exercise. The goal would not be to chase a wild goose of maximized number of stocks, but rather to hunt for uncommon returns from common stocks.
I hold a Bachelor's in Biology and an MBA in "Managing for Sustainability" from Marlboro College. I can be reached at 'L Furman 97" @ G Mail.