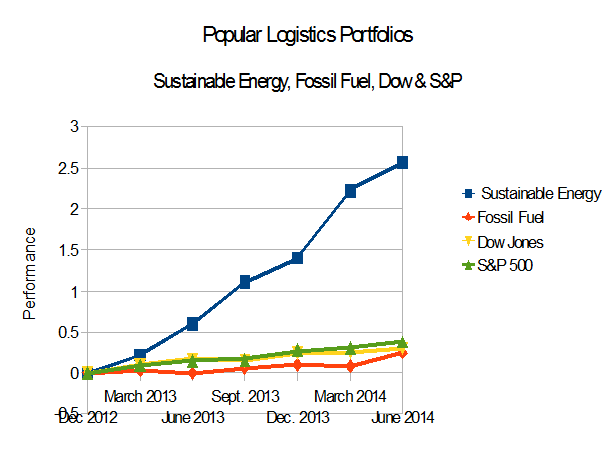 We are watching a paradigm shift.

How else can we explain the dramatic rise of the Sustainable Energy portfolio, the equally dramatic underperformance of the Fossil Fuel portfolio, compared to the Dow Industrials and the S&P 500 since I started this experiment on Dec. 21, 2012? The data are in my post of June 24, 2014, Energy Portfolios, 18 Months: Sustainable up 257%, Fossil Fuels up 24.6%.
Consider these questions:
Which companies are Disruptive or Subject to Disruption?
Which companies are Evolving and which are doing what worked for the last 20/30/50/80 years?
Can management execute?
Is management asking for government subsidies?
What about the long term side effects? What are the Economic Externalities?
If the answers to "1" and "2" are "Subject to Disruption" or "Doing what worked 50 or 80 years ago", then a disruptive technology will come along.  If the answer to "3" is "Management can't execute" then the idea, no matter how brilliant, will fizzle like a wet firecracker.
If management is asking for government subsidies, is it because they need help building the foundation of a new industry or because they are depleting resources? (Is it a good idea to consume resources, that once consumed are essentially gone forever?)
And if the economic externalities, the side effects, are Climate Change, Floods, Droughts, Severe Storms … find a disruptive alternative.
Whaling, which was lucrative 150 years ago, was disrupted by fossil fuels. Over the next few years the fossil fuel and support industries may be disrupted by companies in the "Nega-Watt", "Nega-Fuel-Watt" and "Nega-Waste" industries, such as those in the Sustainable Energy portfolio.
The Portfolios
Sustainable Energy Portfolio
Cree and Lighting Sciences in the LED space, GTAT, which in Dec. 2012 focused on ovens for cooking PV wafers, and today is diversifying, First Solar and Sunpower in the solar space, Vestas, a wind company, Solazyme, a biofuel company and Next Era, a utility. These along with Tesla and Solar City offer disruptive technology.
Fossil Fuel Portfolio
BP, Chevron Texaco, Conoco Phillips, Exxon Mobil and Royal Dutch Shell, the coal company Peabody Energy, and Haliburton and Transocean, in the offshore oil and oil and gas drilling service industries are tech that stands to be disrupted. BP, with BP Solar, the abandoned business unit, tried to market itself as "Beyond Petroleum," but that was before the Deepwater Horizon. These, like other companies in the fossil fuel space are subject to disruption.
The stock price data are in tables 1, 1a, and 2, below.
Sustainable Energy Portfolio – Stock Prices
Item
Company
Symbol
12/21/12
06/20/14
Delta
Delta %
1
Cree
CREE
34.0
48.8
14.77
43.44%
2
First Solar
FSLR
31.0
68.9
37.90
122.26%
3
GT Adv. Tech.
GTAT
3.0
18.3
15.30
510.00%
4
Lighting Science
LSCG
0.8
0.4
-0.39
-52.53%
5
Next Era Energy
NEE
70.0
100.0
29.99
42.84%
6
Sun Power
SPWR
5.4
40.3
34.84
641.62%
7
Solazyme
SZYM
8.3
11.8
3.48
41.73%
8
Vestas
VWS
6.3
50.9
44.62
707.13%
Table 1
Sustainable Energy – Solar City and Tesla – Stock Prices
Item
Company
Symbol
12/21/12
06/20/14
Delta
Delta %
9
Solar City
SCTY
10.73
69
58.27
543.06%
10
Tesla Motors
TSLA
34
229.59
195.59
575.26%
Table 1a
Fossil Fuel Portfolio – Stock Prices
Item
Company
Symbol
12/21/12
06/20/14
Delta
Delta %
1
BP
BP
42.1
52.8
10.66
25.31%
2
Chevron Texaco
CVX
109.7
132.3
22.63
20.63%
3
Conoco Philips
COP
58.6
85.4
26.76
45.67%
4
Exxon Mobil
XOM
87.2
103.8
16.60
19.03%
5
Royal Dutch Shell
RDS.A
69.3
82.4
13.06
18.85%
6
Haliburton
HAL
34.7
70.2
35.53
102.36%
7
Transocean
RIG
45.6
45.4
-0.26
-0.57%
8
Peabody Coal
BTU
26.4
17.0
-9.40
-35.67%
Table 2
–
Posts in this series
–
I, Larry Furman, an analyst with Popular Logistics, hold a BS and an MBA, am available for consulting in various domains and can be reached at "lfurman97" at G Mail.  My goal in these posts is to present and discuss a phenomena I find "interesting" in a scientific sense. Investments in equities of various companies are risky.  I am NOT a licensed stock broker, investment adviser or financial adviser and this should n0t be considered "Financial Advice" or "Investment Advice."